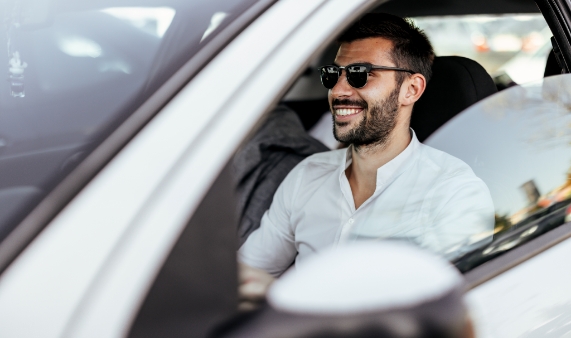 Car, motorcycle and boat insurance with CA Britline
Where can you find a car insurance policy that is personalised to your needs, provides all types of cover – and can be explained in English? CA Britline is the answer. Our team of friendly, English-speaking advisors can provide you with a quote and any information you need.
CA Britline car insurance in detail
Personal injury cover

Premium assistance services
The ABC scheme
Frequently asked questions
Yes. For legal purposes you must have at least third party liability insurance for any vehicle you have in France. The one exception is if you declare the vehicle off road (UK SORN equivalent). You must have the certificate confirming "Le retrait de la circulation d'un vehicule".
Car and motor vehicle insurance policies through CA Britline provide either Fully Comprehensive or Third Party, Fire & Theft cover. But that's not all! Other services can include personal injury cover, breakdown & roadside assistance, courtesy car and various discounts in our reward scheme.
If you have an accident in France you must complete a document called "Le Constat Amiable d'Accident Automobile" or "Constat Européen d'Accident", ideally with the other party, at the time of the accident. This is provided with your policy documents and should remain in the glove box. You should each send a copy to your respective Insurance companies, within 5 working days. The report will enable your insurer to determine the level of responsibility of each of the parties involved in the accident.
Our vehicle insurance policies include an assistance help line for you to call if your car is immobilised.
Switching your policies to CA Britline is hassle free. For house and contents and Car insurance policies, the « Loi Hamon » allows you to change your insurance provider at any time after the first year of subscription by giving just one month's notice. We will arrange everything and ensure continuity of insurance for you.
The vehicle insurance contract and its options are provided by PACIFICA, the insurance company, subsidiary of Crédit Agricole SA. PACIFICA: Company regulated by the "Code des Assurances". Limited company with a consolidated capital of 332,609,760€ untied funds. Head office: 8-10 boulevard de Vaugirard - 75724 Paris cedex 15.352 358 865 RCS Paris. The events guaranteed and the conditons figure in the contract.
This contract is issued by your regional head office Crédit Agricole Normandie, co-operative company with variable capital, approved bank – Head office situated 15 Esplanade de Brillaud de Laujardière – CS25041, 14050 CAEN CEDEX 4 – Registered in CAEN under the company number 478 834 930 - Brokering company registered on the « registre des intérmediares d'assurance » n° 07 022 868.
The details of the insurance broker for your regional head office are available on www.mentionscourtiers.credit-agricole.fr or in your local Crédit Agricole branch. Contact your CA Britline advisor to find out the full details and conditions of this offer in your regional office of Crédit Agricole.