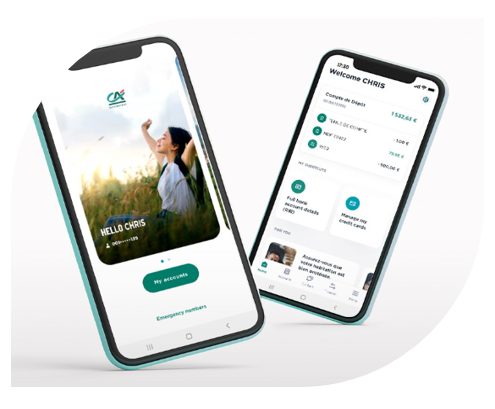 Keep an eye on your account, wherever you are!
Crédit Agricole has developed an app available in English, where you can consult and manage your accounts, as well as download your banking documents (statements, IBAN), and even book an appointment, all in one convenient space!
Frequently asked questions
When you first use the Ma Banque App, it will ask for your « Regional Bank ». Regardless of where you live, you need to choose « Normandie, Counties 14-50-53-61 », as this is where the Britline offices are and where your account is held.
You can then enter your 11 digit account number, as well as the Personal code you were provided. For security purposes, you will be sent a code (numbers and letters) on the mobile phone number we have on file for you to enter in the App. Once that's done, you can get started!
If you don't have a personal code, or have lost it, contact us to be sent another one by SMS.
Don't hesitate to take a look at our Help & Resources section for more tips on Ma Banque!
The Ma Banque app picks up on your phone language. If you want the App in English, simply switch your phone to English, and the app will update when the cache is refreshed (usually the next day).
No. Each account holder has a separate log-in. The account number you use might be the same if you only have a joint account, but with a different code.
This is important to keep in mind as some banking products are strictly personal and you will not see them on your partner's log-in (savings, cards, online payments to validate)
Free download and access to the Ma Banque application, excluding communication costs according to operators. The use of the application requires the use of a communication terminal compatible with Internet access and a subscription to the Crédit Agricole En Ligne service. Services may vary depending on your Regional Bank. App Store is a trademark registered under the name of Apple Inc. Android™ and Google Play are trademarks of Google Inc.