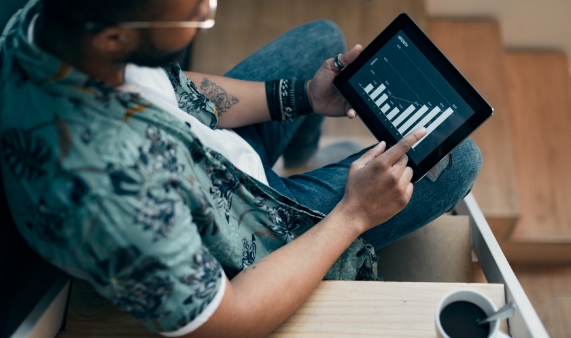 Share account
With a share account you can buy, sell or hold a wide range of funds for your medium and long term investments.
« Share account » in detail
Eligibility
French residents only
Linked to your Current Account
Conditions
No minimum or maximum

Invest at your own pace
Taxation
Subject to income and capital gains tax
Frequently asked questions
The share account allows you to manage a portfolio of short, medium and long term stock and share investments from all international market places. This offers you the potential of making the most of your savings over the longer term, whilst ensuring accessibility in case of need. Nevertheless, given the nature of the investments within a share account, it should be considered as risky and only subscribed when you also have some more secure savings plans in place. Our advisors will be happy to guide you.
A share account is used to hold your stock and share investments and is linked to your current account, which is debited and credited when you buy and sell shares. Once the share account has been opened, trading can start after an obligatory 14 day cooling off period. You can either choose to manage your portfolio yourself, or invest through a Mandate of Management with CA Indosuez Private Banking, where a portfolio manager will make investment decisions on your behalf based on your attitude to risk. Fees and taxes apply depending on your transactions and options.
You are able to invest a lump sum, or start with a smaller amount and make additional purchases to build up your portfolio over a period of time. You can hold the share account for as long as you choose, although we would generally recommend a minimum investment period of 4-5 years. Crédit Agricole has created the "Investstore", an online service that enables you to follow and manage your investment portfolio at any time of the day.